About Us
Greetings from Meadowside Primary School, Burton Latimer, Northants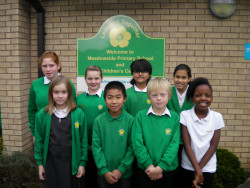 Welcome and thank you for taking the time to visit our website either as a parent/carer with a child already in school or as a prospective parent/carer. From the age of four to eleven years of age we are able to offer a first class education provided by a dedicated and extensive staff team and excellent resources.
At Meadowside we understand the importance of giving children the very best start in life. We hold the children's personal development and general welfare in high regard. Within our caring environment and through our partnership with parents/carers we promote positive attitudes to learning through high expectations, hard work and good behaviour. Every child is encouraged to give of their best, yet always with due regard and respect for others. We want children who attend Meadowside to leave us at the end of Year 6 with the skills and positive thinking needed to achieve their ambitions and to lead happy and successful lives.
Although most aspects of our school can be found on our website and in our school prospectus, they do not deliver our true essence, nor can they completely celebrate the children's achievements. This can only be appreciated by a visit to our school where we offer a warm welcome to you and your child.
Please telephone the school office at any time to make a mutually convenient appointment to visit and we look forward to meeting and welcoming you to our school.