Intent
The overarching aim for English in the national curriculum is to promote high standards of language and literacy by equipping pupils with a strong command of the spoken and written language, and to develop their love of literature through widespread reading for enjoyment. The national curriculum for English aims to ensure that all pupils:
read easily, fluently and with good understanding
develop the habit of reading widely and often, for both pleasure and information
acquire a wide vocabulary, an understanding of grammar and knowledge of linguistic conventions for reading, writing and spoken language
appreciate our rich and varied literary heritage
write clearly, accurately and coherently, adapting their language and style in and for a range of contexts, purposes and audiences
use discussion in order to learn; they should be able to elaborate and explain clearly their understanding and ideas
are competent in the arts of speaking and listening, making formal presentations, demonstrating to others and participating in debate
For further information about the Primary National Curriculum for literacy , please follow this link.
Implementation
Individual reading
When pupils at Meadowside are fluent, independent readers they move away from using the Read, Write Inc (RWI) scheme used in the early stages of their reading journey (find out more about RWI on the early reading and phonics page). In Year 1, pupils are moved onto colour banded books and from Year 2 they are moved onto Accelerated Reading books. Accelerated Reader is used from then on throughout the school.
Accelerated reader
Accelerated Reader (AR) is a program whose intent is that pupils enjoy reading more when they can select their own books. (The program has more than 150,000 titles to choose from on its BookFinder list.) Each book has online "reading practice" quizzes, which are referred to as "AR tests." Teachers use these quizzes to track each pupil's progress and set appropriate goals for them. It's intended to encourage pupils to read independently, at their own level and pace.
Pupils are guided with personalised goals around the three factors proven to make reading practice most effective:
Comprehension
Quantity
Complexity
For more information, see our reading files below.

Reading in school
From Year 3 to Year 6 children spend at least 45 minutes of their school day on reading activities. All classes in KS2 have daily Whole Class Reading (WCR) sessions, which last from 30-45 minutes. These sessions introduce children to a wide range of age appropriate texts, including poems, songs, fiction, non-fiction, historical, traditional, modern and multi-cultural stimuli. The activities involve listening to texts and then tasks, which help pupils to understand the stimulus at a deeper level.
Vocabulary check - introduces the pupils to new words and checks meaning.
Quick Start – includes repetitive style questions to encourage a general understanding of texts.
Individual thinking - encourages independent thinking.
Partnered talk - encourages discussions, personal views and debate.
Solo work – opportunities to record their ideas and responses in writing in their reading books.
Each class throughout the school will have a class reader. These are longer texts, which are usually read by the teacher to the class. Dedicated time each day is given to these texts to allow children to access and listen to more complex texts. Class readers are chosen for a number of reasons - children's choice, curriculum links, seasonal links or because they are written by a favourite author. Two WCR lessons per week are linked to the class reading book.
See example of some WCR lessons in reading files
Encouraging a love of reading
At Meadowside, we want our children to love reading in all its forms. We believe providing children with exciting places to read will help to encourage this ethos.

Meadowside has a beautiful school library, which was completed in May 2021. The school resident artist used inspiration from some of the children's favourite texts to create a, sensational, colourful and unique setting for our shared books. Pupils have timetabled access to the library and may choose any book, which interests them, they can then take them home. Books are organised by author surname for fiction books and using the Dewey Decimal Classification system for Non-Fiction books.
In Nursery, Reception, Year 1 and Year 2 each class has a designated reading area or book corner. Children have access to these throughout the day. In Key Stage 2 there are reading spaces in the shared areas which children can use throughout the day when appropriate.

In the near future, we will be opening an outside reading garden. Children will have access to this during some lessons and again is aimed to promote a love of reading.
Jeff the reading dog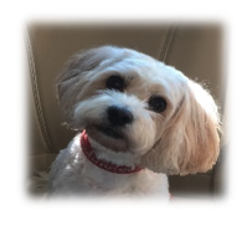 Jeff is a regular visitor to our school. He is used to support and encourage pupils to read within a safe environment. Reading to the dog helps them to take on the responsibilities, as well as the pleasures of independence. The children become the experts as they read, leading to greater confidence in their reading abilities.
Reading events
We hold regular reading events throughout the year, book fairs, book stalls, World Book Day and Creative Mission Days all help to keep reading a key focus of Meadowside Primary School.
Parent Support
Parents play an important role in supporting and promoting positive reading habits. It is expected (as outlined in the school homework policy) that children are given opportunities to read at home. Your child will be responsible for bringing a school reading book home each day. During their homework time it is expected they should read for between 10 and 15 minutes at least four times each week. With younger children, this would need to be with an adult or older sibling who can record their reading in the school reading record. With older more independent readers this may be reading by themselves and then a discussion with an adult about events, information or characters after reading. The child may record their progress in their own reading record. School reading records are checked regularly by staff and can be a useful platform for asking questions about your child's reading and learning. Please use the records to let teachers know if your child has struggled, asked questions, explained vocabulary or if they have or have not enjoyed the book.
Don't forget it is still important to read to your child and share books together.
Reading Files